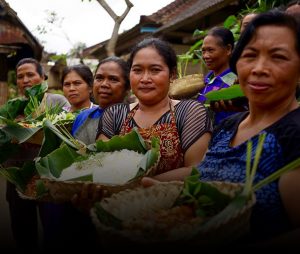 "You have no control over what happens around you, but you can control how you will respond and look at the situation." 
When the world would see struggles as failures, she chose to see it as a source of strength. Ibu Sari Pollen, the most inspiring Indonesian I have ever met yet, constantly reminds herself that despite what she has lost, she can do so much more and nothing should hinder her. This choice led her to be the empowered woman she is now. 
This amazing person welcomed a complete stranger like me to her center without any hesitation. She prepared a simple lunch to share in her wonderful garden with her four year old nephew, a limping dog she rescued, and four teenage guys who were seen as troublemakers in their community. She went on telling me that she took them with her to the centre to educate and guide them.
Ibu Sari knew what it felt like to be looked down upon by almost every body. She told me how the community and even some of her friends turned their backs on her when she was at the lowest point of her life. She got divorced and she never saw her daughter after. She got depressed and did not know how to start over as she felt like the whole world was against her. But then, she learned to stand up stronger and decided to work with another charity to help educate young kids.
She then went on founding her own charity, Kim's Women Centre, to empower women who got divorced. Support them in a way that she never had when she was struggling. But now, she does not only focus on women, she also welcomes LGBT community, kids who do not have access too proper education, and basically anyone who feels like they need a community to support them.
She empowers women in a way that she teaches them how to sew, how to farm, make products out of Bamboo, make rags and scrunchies to sell, educate them and now she has a salon that helps raise funds as well. She still has so many plans for her centre but of course, they do not get enough funding to support them yet. 
She started planting more and more trees and plants that it started attracting butterflies. She even have monkeys visiting her centre as well. Her centre is such a little sanctuary in the middle of the already calm and beautiful area in the north of Ubud.
Before I left, she beamed and got me a bunch of lemongrass, turmeric and ginger to take home with me. Ibu Sari has been so generous not just to me but to everyone around her. But what made me admire her more was her selflessness and overflowing positivity that just radiates from within her. Whenever I look at her, I knew that I had to do something. 
"There are people who are just light." This thought came through my mind when I left Ibu Sari 
Pollen's home. I realized how very easy it is to exist. All you have to do is wake up and keep breathing. But not everyone gets to live a meaningful life.
Spending half a day talking with Ibu Sari made me learn the importance of living alongside others, not in perfect seclusion, but with people, good people, who will shake you out of your foggy existence. People who believe in you when everyone thinks you are up to no good. 
Live because the world is broken and you are its hope. Live and make space for others to live, too.
My heart has never been this full.
If you want to help, here's a list of what they need!